Making the connection for a solid relationship between rider and horse…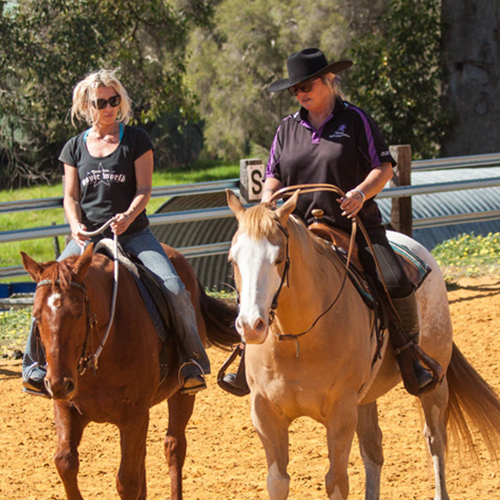 It does not matter what kind of horse you have or what level of rider you are, the Karen White essential training method is for everyone, any discipline, any age and any horse breed.
Whether you are a dressage rider, western disciplines, recreational rider or jumper, condition response training works with kindness and assertive leadership for horse and human, making the connection for a solid relationship.
Knowledge is powerful and is part of your journey to regain your confidence or your control in your equestrian life. If you have experienced an accident or a frightening horse incident, child birth, recent illness, divorce, bereavement, environmental depression, dramatic change of circumstances, family issues, or just lacking time and knowledge,   Karen will show you the way through clear communication that your dreams will come true.
As with most of us, Karen White has travelled life's unexpected twists and turns, healing herself and re-building her life with the help of her herd for 25 years.  She is passionate in sharing her experiences in a way that makes you feel safe, understood and most of all relieved that training a horse is simple and very achievable.  Karen  studied Eques psychology in Arizona with world renowned Linda Kohanov "Power of the Herd", technical training with  John Lyons world renowned horseman and has done several accreditation courses starting in 1988 with Animal Husbandry, Equine Management, Stud Manager and breeder of Appaloosas 1990 and successfully showing all her own progeny and clients horses in WA and NSW to state and National level, Parelli Natural Horsemanship in  1990, David Simons Select Trainers scheme 2000, EAGALA 2009 certificate 1 and 2, Hafflinger official classifier and recently studying for her National and International judges course commencing 2017 in Melbourne Australia.  Karen travels east to many International coaches and overseas to keep updated with International training techniques to share all her knowledge with everyone she comes in contact with.  Her next visit is Vienna Riding Academy August 2017!
Mohegan specialises in rehabilitation for the horse overcoming illness, unfortunate abuse, and behavioural adjustment.  Testimonies at www.karenhite.com.au , only humbles her.  With a natural, calm, assertive energy that is obvious when she works with horses, she is always enthusiastic to share the connection she experiences even with the most difficult horses that need the most help to redirect them.
"It's imperative that we stay authentic at all times and in the moment with no distraction when working with any horse.   Embrace and develop yourself through the horses rawness, they do not hold grudges and accept change very quickly, this is a huge lesson for all humans".  Karen White
Mohegan offers a busy schedule of clinics, workshops and privately tailored lesson packages for the owner and the horse.  Karen is passionate to help all people, through consistency and clarity of thought, condition response training will excel you to be a problem solver, and for those that have lost their way, the authenticity of your horse, help regain confidence and self-control with your training again.
May the horse be with you…..
Making the connection between rider and horse

Peanut and I are still learning & mentored with Karen, but with the training that Karen has done with us both, things are now achievable with lesson plans. I now look forward to going out and having a ride with a "can do" this attitude and finally having FUN doing it!!
....
The horses are completely amazing, kind and understanding of your needs and Karen has helped me start to really overcome my anxiety and depression.
....
My first lesson with Karen was not only informative but also very encouraging and enjoyable.
....